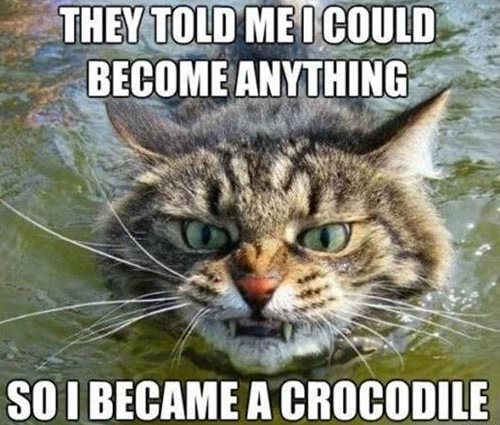 As I enter what seems like my 39th semester of college (it's my 5th, but feels so much longer) I am questioning my degree. I know, it is totally normal to do, but I am doing it a lot. Like, obsessively. And I know I could change majors, but the idea of extended this school thing any longer makes me want to puke. I have 3 kids, a husband, this blog and am now working 32 hours a week. Add 3-4 classes a semester to that list and it gets beyond overwhelming. I mean, I failed a class last semester and I was only working like 15 hours. So thinking of continuing this routine to change degrees, well that shit ain't gonna happen.
But again, I know questioning majors is normal. But it got me thinking, if I was 15 years younger, billions of dollars richer and free from responsibility, what kind of education would I pursue? What is my actual 'dream job?' So I have thought long and hard about my dream jobs. I have a few. Sadly, none of them really parallel with my major. But it is a fun list and I thought I would share. Hoping you guys share your dream gig with me!
This Blog! I would love if I could dedicate all of my time, energy, and passion right 

here. Behind the computer experiencing, learning and growing with my readers. Trying new things to teach you and most importantly, making you smile. It is my favorite thing to do….seeing someone laugh or smile because of something I did or say is the best. I freaking love The Shitty Housewife and my readers. Dream job for sure.
2. A Political Science Teacher! I know that sounds odd, but it has been something I have             wanted to do forever. I remember my 8th grade poli sci teacher and I adored him.                  His class was so eye opening and interesting. And as an adult, I love politics. Well,                  love hate. I try to keep my views away from this blog but I love a political discussion.            I think knowing about politics is SO important and kids need exposure to it. SO they              get involved, they vote, they make changes. Having a classroom dedicated to it would            be a dream come true.
Owned a Venue! I would love a badass venue where I could bring in great music, acts, and

 host events. Mainly not for profit events where fundraising was the main focus. And not just for one non profit. For any that are changing the world and saving lives.
Halloween Costume Designer! Like totally dream job. I mean Halloween is my most favorite day ever. I mean, I got married on Halloween I love it so much. I love creating off the wall costumes, so being able to do it and have the skill for it as a career would be AMAZING!
Justin Timberlake Backup Dancer! Come one. Fuck yes. Best job ever……
So there they are. My dream jobs. Now it is your turn! Let me know what you fantasize about…besides grinding on Justin's ass.