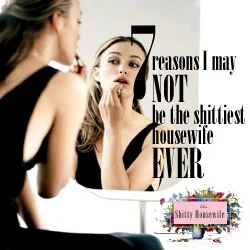 7. There is always beer in our fridge.
Mainly for myself, but still…makes me look like I am keeping it up for him.
---
6. I always ask him what he wants from the store.
I never remember to buy it, but I still ask. Counts for something right?!
---
5. I can follow a recipe.
Really well.
---
4. I put out.
Always.
---
3. I make him laugh.
I mean a clean house is great and all, but isn't making someone laugh better????
---
2. I like his friends. A lot.
Matt's buddies are my buddies. They are a package deal and I love all parts of his package.
---
AND THE #1 REASON I AM NOT THAT SHITTY OF A HOUSEWIFE….
I give head… still… after all these years.