So
Tuesday
night I gave my husband three dinner options. Enchiladas, beef stew or chicken pot pie. He choose the pot pie. I have made it before and it is really good. And since it is more of a winter time meal, I figured now would be a good time. I had most of the ingredients at home already, just needed a quick stop run for pie shells and something else that at the moment I can not remember.
Side note…..We got to the store and there were a bunch of firemen picking up groceries for the firehouse. I swear, firemen are the hottest people ever (no pun intended.) The really are. And now that I have kids, I work that shit. Kellen and Cameron had their fire truck hoodies on, so I was in the clear.
"Kell, look firemen!" I march my three littles right over to this hot group of men and just swoon, using my kids as bait. They picked Kellen up, high fived Viv. Patted Cam on the head. The kids (and myself) were in heaven. They even invited us onto their truck, (which of course we accepted, but then they got an emergency call and had to go…just my luck.) Now, I feel like this was totally acceptable behavior. No I was not flirting, just letting my kids fulfill their fireman dreams….my fireman dreams are much different and it was not fulfilled….I AM A MARRIED WOMAN!!!! And if Matt saw a group of, I don't know, strippers and my kids were obsessed with them (they are NOT…I am just using an example) I would tell him to for sure go over and be in the mix for a bit! Back to the food……..
INGREDIANTS
Chicken
2 Pie Shells
2 Cans Cream of Chicken Soup
1 Can Cream of Mushroom Soup
1 Chicken Bouillan Cube
1 Package of corn/carrot/pea frozen veggies
Salt and Pepper
Spices of your choice
Step 1- Cook your chicken. What a fiasco this was. I had bought some chicken a few days prior and the night before my husband decided to put it in the freezer. So when I went to cook it….IT WAS FROZEN. I was so annoyed. Anyway, it was fine, just took a little longer to cook. I through some spices on it and cooked it. You can also buy precooked if that makes life easier. We just had the chicken so I used it.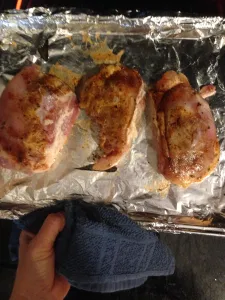 Step 2-Wait for the chicken forever…..Viv is not impressed with the whole froen chicken fiasco.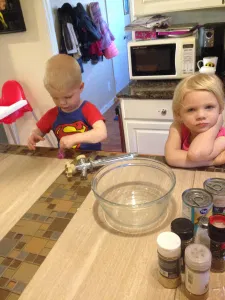 Step 3-Kepp waiting for chicken…damn you Matt for putting it in the freezer. Oh wait did Biz just come on??? Thanks Spotify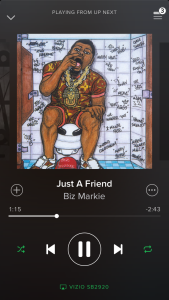 Step 4-It is finally done. Take out and diced up. Skin and all.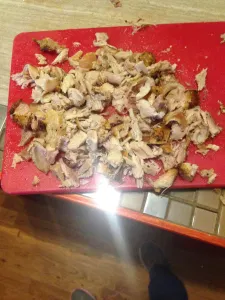 Step 5- Mix all remaining ingredients in a bowl. Be sure to crumble bouillon cube up in mixture! Pour mixture into pie shell.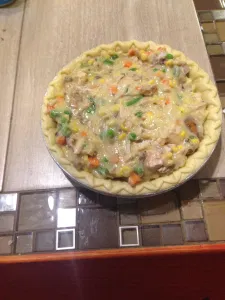 Step 6- Put second pie shell on top (mine was sticking, hence why it looks so ugly.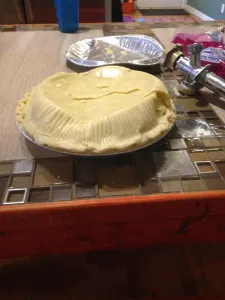 Step 7-Cook at 375 for 40 minutes
Step 8-Take out and cool. I cooked at side of broccoli.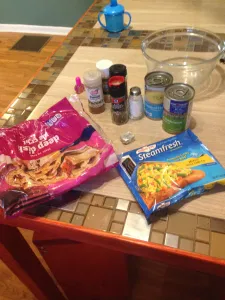 Step 9- Serve! Everyone loved it…including GPA!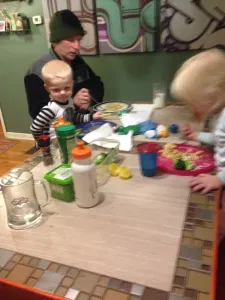 So yeah, it was yummy. But damn…those firemen were yummier!