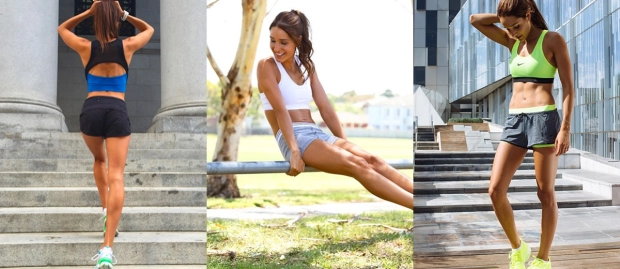 So here we go. Smack in the middle of week 1 with Kayla.
A quick overview again. You do her workouts M, W, F and your own cardio Tuesday and Thursday. Her workouts are 2 sets of 4 different exercises. You do one set for 7 minutes, the next set for 7 minutes. Then repeat. That is it. 28 minutes long. But let me tell you, those 7 minutes are TOUGH. I mean, I was staring at the stopwatch waiting for the seconds to tick. Partially because I am out of shape. Partially, because I have become lazy with being motivated to work on myself. Combine those two things and this shit is hard.
I did as she asked and took some before shots. Again, for having three babies in a row, I look good. But I need to feel good. But I did see a lot of work that needs to be done. I am supposed to take before and after shots at week 4, so if I am not too embarrassed I will share.
The good thing about this work out is the whole 7 minutes then a quick break thing. I am doing this workout at home surrounded by kids and dogs. If they need something, they can wait 7 minutes and during my break if I need to attend to them, I can. If they are cool, I quickly move on to the next round because I want this shit over with. But as a mom and a busy person in general, that break is helpful.
Monday
was her leg routine.
Tuesday
I did 45 minutes of cardio (the elliptical) at the Y. Good for a workout and the kids love the daycare there.
Today, Wednesday, was her ab and arm workout. Let's just say typing this hurt. And my legs are jelly and my ass is sore as shit. So yeah, something is working.
I have already planned for my cardio
tomorrow
and
Friday
her workout is optional. I will see how I feel or see how much beer I plan on taking in over the weekend. Maybe an extra workout wouldn't be so bad!
The cool thing is there is big Kayla social media support. If you tag her and her Bikini Body Girl (#bbg) anywhere, you get mad positive feedback from other gals doing it. There is nothing more motivating than that!
I'll keep on and keep ya posted. But if you see me like I was straddling a horse (or my husband) all night, just know, it was nothing that cool.