So, Facebook groups have become my very favorite thing about Facebook for quite a few months now. There are groups for absolutely EVERYTHING! There are mom groups, toddler groups, sexy groups, relationship groups, and boudoir groups! A girl I barely know added me to a boudoir group months ago as part of a contest. I am an incredibly novice photographer in LOVE with the power of women's bodies so I happily joined and found the very best group of empowering, uplifting women and even better, there was booties and babes everywhere!
The group is called ERP Boudoir VIP Group and it is run by the amazing Elizabeth Rose Cole, the mommy of 2 who has created this incredible business of making women feel like fucking rockstars. And y'all, she is the sweetest, most down to earth, chill, fun, comforting, badass I have met. So, when I got the chance at a session with her, I fucking jumped on it. The problem was, I had just had my second baby 6 weeks earlier, so I messaged her and she told me everything I needed to her. I expressed to her my concern with my trouble areas like my belly and she told me, "That's what most women feel uncomfortable with. But you just had a baby! Of course your belly is going to still be healing. I'll make sure you look like a goddess.
" And boy did she!
I want to give y'all a run down of how my session went because it was one of the most exhilarating experiences of my life!
The night before, I was up so late picking out the most "sexy" stuff I had, if you want to even call it that. Half of the stuff didn't fit because it was pre-baby#1 so that was a bit upsetting but I just grabbed everything I could find. What was awesome is that she also has a whole wardrobe at the studio to use that she has handpicked for the best photoshoot attire on any body. And since this shoot was for my fiance as well as myself, she encouraged me to get some things that he might be attached to or that he likes on me. I shaved everything, and I mean everything, moisturized out the wazoo and brushed out my hair. I went to bed with excited butterflies.
The next morning I arrived at the studio to a smiling, warm and friendly Elizabeth. I instantly felt calmer with the cool vibe of the studio and the even cooler Spotify playlist echoing through the rooms. She offered me champagne and we went through the clothes I brought with me. I loved it because she was SUPER honest about what she felt would look best on me and translate to the best photos, and I was happy for the feedback! We talked about what I was comfortable with nudity wise and what kind of vibe I wanted for the shoot. She was willing to do everything from no nudity, implied nudity, and complete nudity without me feeling judged with my decision. Soon, makeup artist, Jennifer Chalk arrived  and we got to work! I sat for the most pampering this mama has gotten in years while Elizabeth did the best pin curl hairstyle, and Jennifer gave me  smokey, sultry makeup look. It was so fun and felt like we had known each other for years! It was all girl talk and baby talk and what I have missed while being at home with the babies and no adult conversations.
Once that was done, it was on to the shoot! The butterflies were back but in such an exciting way! What I absolutely loved is all the guidance Elizabeth gave me. She gave me a run down of how the shoot was gonna go, what she was going to say and so, what I needed to keep in mind, and she even showed me each pose so I could see what she meant when she said certain phrases. One I heard a lot was "arch that back! stick the booty out!" And from that first setup, we got my first shot and one of my faves!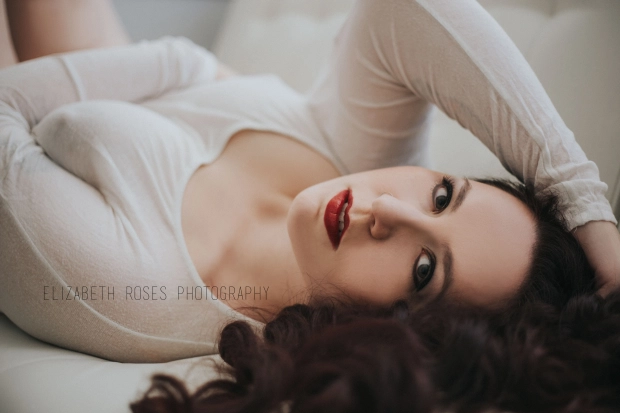 The entire time she was checking her camera display and talking me up, telling me how much she loved it, how excited she was, how great I looked and wow did those words of affirmation help! From there we changed outfits, changed positions, changed locations, changed props etc and the shoot flew by without me ever feeling awkward half-naked in front of some chick I just met. Once we finished up with the shoot, I changed back into my "daytime" clothes and hung out while she worked on some of the photos. What I loved is that in just a couple of hours she had the gallery ready for me to look at instead of waiting for weeks, and we were able to look through them together to pick out prints. She has the most amazing selection of matted prints, albums, metal prints, & canvases for every budget. They are all gorgeous and so belong in your hubby's/wifey's sight every morning so they can remember how fucking fabulous you really are! Elizabeth kindly sent me some of my  proofs for this blog post and to share with all of her newest fans (y'all!!!)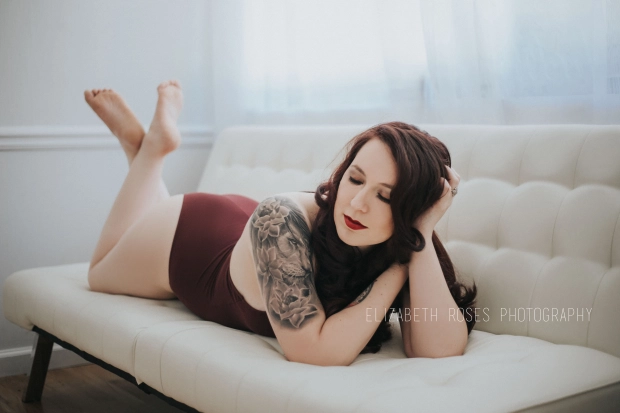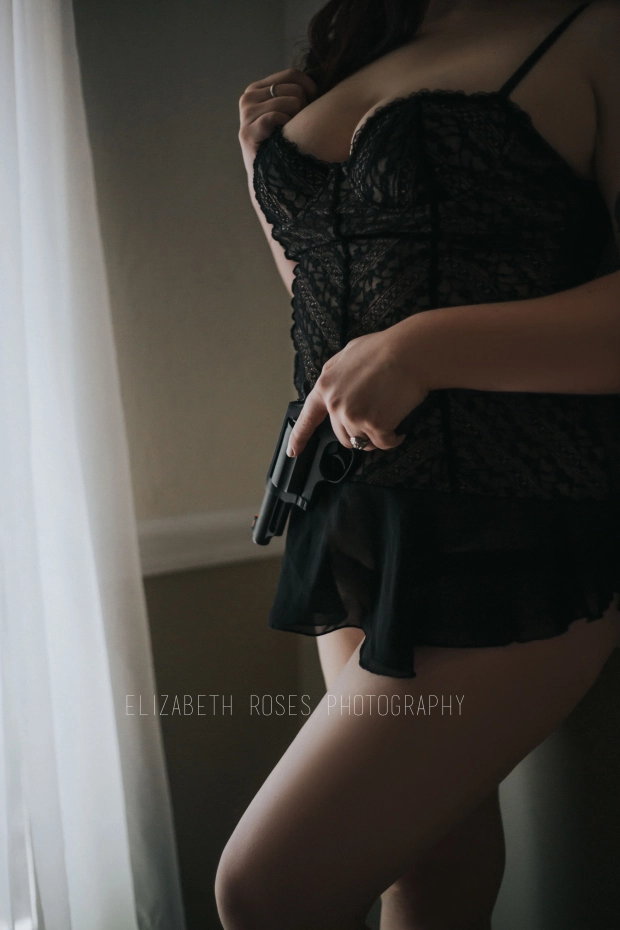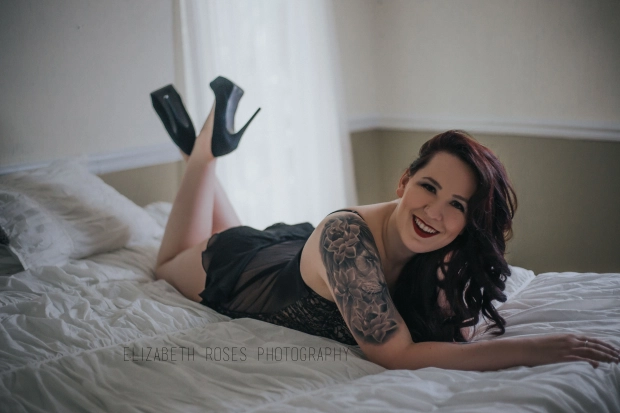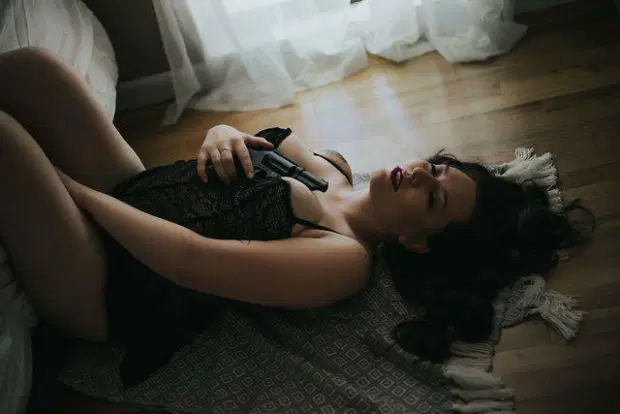 And notice how I haven't talked about being 6 weeks postpartum since the beginning? Because I didn't fucking remember! The whole session I was si comfortable with Elizabeth that I just knew she would make me look fab and there was nothing to worry about and I felt so sexy! And when I got home a few hours later, Nick let me know how sexy I looked, too. (wink, sex, wink) And that confidence has lasted. After seeing myself in a way so different from the every day mom, messy bun, spit up covered, #PJsAllDay image I am so used to seeing in the mirror, I have realized that I can be the sexy woman who Nick always talks about. I can walk with a strut because I am amazing. I can feel good about myself and know that underneath all this that I am a goddess. And I fucking love that outlook on myself. I feel happier, more confident, more motivated, and more capable.
SO all of that being said, you HAVE TO join her group you HAVE TO go check out her website and you HAVE TO get a session done with her. She has just rolled out her newest referrals program so let her know that The Shitty Housewife Nicole sent you and get your booty into her studio. I promise you won't regret it!