DISCLAIMER: I am incredibly grateful I am that I can breastfeed and that I have a good supply. It saves us SO.MUCH.MONEY! However, that good supply can make things as simple as going out in public a hassle. Finding outfits that make you feel like less of a lump when postpartum is difficult enough, but adding in breast accessibility creates a whole new challenge. So, here we go with things you can't wear when breastfeeding.
Things you can't wear when breastfeeding
white tee
One would think that the classic white tee would be an easy go-to, but one would be fucking wrong.  If you leak through, it looks like a very specific wet t-shirt contest and dries into hard, off-colored spots. And every time you look at your baby or hear a baby crying at the store, you will feel the familiar and uncomfortable pressure of a let down.
---
black tee
Refer to #1, just in black, and way worse. You will have white orbs over your nipples no matter how many breast pads you put in to prevent leakage.
---
anything tucked
You know the cute "in" style right now with a tee tucked into your jeans/shorts/skirt/wtf-ever. This will not happen because there is absolutely zero ways to look cute and put together when feeding. You are trying to get the fussy baby to stop wiggling and onto your tit without drooling milk all down your shirt and/or belly.
---
gray anything
No. No we dont. Gray is the worst of all the neutral colors. The second it gets wet (and it always does) you can see it from a mile away. And when it dries into a crust, it still looks wet. There is no winning with gray. Stay away from gray.
---
crew neck tees
The crew neck makes it impossible to whip out your tit from the top so you have to pull the whole shirt up, offending the world with boobs that have a purpose and a flabby belly yet to be toned (I'm getting to it, okay?)
---
high necklines
Yeah, keep dreaming sunshine. There is absolutely zero boob access and since you have now become a milk maid, you no longer get to worry about "cute."
---
stripes
Not gonna happen, girlfrannn. Even going from the smallest of boobs (like my perky lil 32As from before) your boobs will now be far too large to wear these enhancing stripes. Your boobs will be enormous, (like my now 36 DDs. What the fuck, man?)
---
bralettes
These are too adorable. No doubt. But bring some duct tape or cable ties because no way is that little bit of lace going to hold in these engorged puppies. And these look far less cute with pads shoved in to try your best to prevent the dreaded leaking.
---
bras in general
The boulder holder you used to love because it perked you up so nicely will likely no longer fit and will be burdensome. You either have to pull it up over your boob and get squeezed by the underwire or pull the strap off and tuck the cup under your boob to get wet and misshapen.
things you can wear when breastfeeding
nothing
I swear, its like every color, shape, material I try there is some downside to it. If you want the easiest of the hard, stick to:
v-necks
These will give you the best access for a tee. Just make sure it is loose enough to where you wont be able to tell the neckline is stretched out and have something to wear over it because no matter the color, you will have leak spots somewhere.
---
button downs
You can decide your level of access and can layer to make yourself look presentable. There are tons of styles, patterns and colors.
---
athletic wear
You can get away with looking a mess because people will think you just worked out (and there is no problem with not correcting them.) There are zips and pockets and the fabric sucks everything in just right. Plus, the special water-wicking-dry-fit-rain-x style bullshit helps leaks from looking too leaky. It spreads it around more and makes it a bit less noticeable.
---
and finally,
the Mom bun
This is a fucking staple. You can wear it everyday without worry. Throw some dry shampoo in that bitch and call it an "updo."
---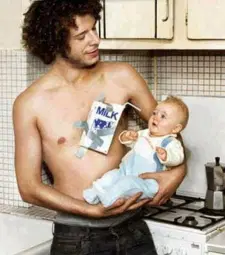 So next time you step out, don't worry about what you wear because you are fucked regardless. Breastfeeding is great, now make the hubs do it and he will finally understand the hour to get ready and the meltdowns.